Gunshot Detection
Unpredictable active shooter situations happen all too often in places such as schools, warehouses and places of work. It's important to have safety measures in place as these tragedies escalate quickly before law enforcement can arrive.
Overview
Benefits
Part Numbers
The Concussive Force Innovation
3xLOGIC Gunshot Detection identifies a gunshot using concussive force recognition technology and is simply integrated into your existing security system. The concussive force recognition technology detects the force that you would sense if you were near a gunshot.
Upon a gun firing, a shockwave is created by the bullet exiting the gun and travels through the air. The shockwave creates the concussive force that you feel and is picked up by our gunshot detection sensors.
Our gunshot detection solution does not utilize microphones, infrared sensors or complex analytics - just an affordably simple sensor solution that is part of your active shooter safety and security measures.
Simple Solution, Comprehensive Coverage, Affordable.
Our Gunshot Detection solution is a self-contained device with a reliable dry contact allowing you to easily integrate into your existing security system.
Utilizing a range of 75 ft. radius with a 360° coverage, our solution minimizes the number of sensors needed allowing you to be affordably covered.
Our Gunshot Detection's infrastructure has no need for software, servers, or relay board.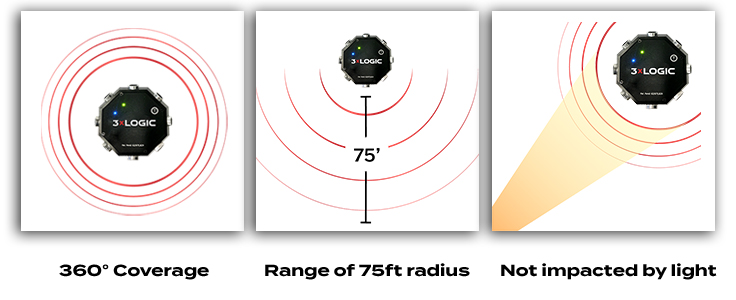 Typical Use Cases
K-12 Education
Warehouse and Distribution
Small/Medium Business
Finance and Banking
Product Specifics
75' radius/150' Diameter detection range in any unobstructed direction
FCC approved components
Indoor rated
Self contained detector
Designed and manufactured in USA
Test Mode via contact-less switch
Temperature rating: -35°F to 135°F
15000 cu ft of coverage per device
Trouble relay for AC power loss
Die cast aluminum casing and HDPE
Mounting Options

Key Features & Benefits
| | |
| --- | --- |
| Alarm form C | X |
| Warranty | 1 Year Warranty (parts and labor) |
| Range | 75ft & 360° |
| Concussive Force Detection | X |
| Ceiling or Wall Mount | X |
Connection Capabilities
75' radius/150' Diameter detection range in any unobstructed direction
FCC approved components
Indoor rated
Self contained detector
Designed and manufactured in USA
Test Mode via contact-less switch
Temperature rating: -35°F to 135°F
15000 cu ft of coverage per device
Trouble relay for AC power loss
Die cast aluminum casing and HDPE
Power Options
12vDC power transformer
12vDC separate power supply
Detection Method
Engineered Shockwave technology (Non Microphone based detection)
Sensors detect only gun shot shockwaves
360 degree detection within line of sight
8 sensors per device
No server, software, or cloud-based service required for functionality
Patent pending technology
Part Numbers
| | |
| --- | --- |
| SentCMBW | Bundled Gunshot Detection w/ Ceiling Mount - White |
| SentCMBB | Bundled Gunshot Detection w/ Ceiling Mount - Black |
| WM01W | Wall Mount - White |
| WM01B | Wall Mount - Black |
| SRMP01 | Transducer Screen Replacement Master Pack (qty 100 pcs) |
| TP5P01 | Telescoping Testing Pole (qty 5 pcs) |
| CM04 | Flush Ceiling Mount |
| STU01 | Gunshot testing device with Bluetooth |
Dealer Login
To access additional technical materials, please log in
Technical Materials
Sales Materials